Information Central manages the posting process on campus. Our team updates posting boards every Monday and Tuesday. – please reach out to us directly with any questions: BE 1105, info.central@seattlecolleges.edu, 206-934-4030.
When poster is ready for approval, please send to info.central@seattlecolleges.edu.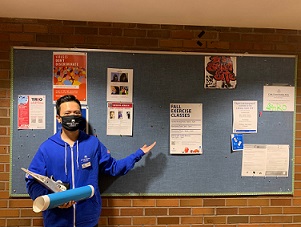 General Guidelines
All posters/flyers must include: 
Seattle Central College logo 

Contact info of student/faculty/staff contact 

Accommodations statement: "To request disability related accommodations, please contact Accessibility Resource Center at arc.central@seattlecolleges.edu"
Info Central and Student Leadership can authorize postings on campus 

Only approved posters can be posted on campus: SCC events & activities, committees, clubs, boards and academic classes, with stamp authorization 

See Open Posting Boards for outside organizations and businesses 
Posters/flyers without proper stamp approval will be removed [unauthorized posters] 
 A maximum of 25 posters can be made to distribute across campus 

As a courtesy, Info Central can post posters for events, clubs, committees and boards (we can no longer post for classes/instruction – however we will still give stamp authorization) 

We require at least 5 business days in advance to post for an event/activity 

If posters are submitted with less than 5 business days, we will stamp, but hand the posters back to you for self-posting 

We will not post more than 1 type of poster for the same event/activity/club/committee 

If there are mistakes on the posters you already gave Info Central, it is your individual responsibility to fix those (either by putting up the corrected ones yourself, or correcting the posters that are already up with a sticker or marked change).
Distribution Tips:
 Only use masking tape, and tape behind the poster (not across the corners) 

 Do NOT use glue or strong adhesive 

Do NOT post in unauthorized areas 

 Be respectful of division/department specific boards 
Seattle Colleges is committed to ensuring a safe, diverse, and inclusive working and learning environment for students and employees. 

 Posters or flyers that are discriminatory or offensive in nature, or include implicit/explicit hate speech or messages, will be removed from campus 

  The poster team will report the potential bias incident to Safety & Security, including pictures of the image, where and when the image was found, etc. 
1st floor
North Elevator
Grey Wall next to the elevators

Post under the correct designated area
North Hallway
Wall across from the career center (BE1102) - Brick Wall 

Post under the correct designated area

Posting board at the end of north hallway - Open Posting
Central Hallway
Wall next to Info Central (BE1105)

Post under the correct designated area
Central Elevators
Left wall next to elevators

Academic/Class posting only
Central Hallway
Bulletin board before security (BE1108)
South End Hallway
Bulletin Board next to open posting

Bulletin Board next to textbooks posting

Academic/Class posting only
2nd floor
Central Elevators
Wall on the left side of the elevators

Academic/Class posting only

Wall on the right side of the elevator
South End Hallway
Bulletin Board next to the library

Priority to first come first serve
3rd floor
North Elevator
Wall on the right side of the elevator

Post under the correct designated area
North End Hallway
Bulletin Board next to BE3143

Post under the correct designated area

Bulletin Board next to BE3158
Bulletin Board across from BE3160C

Academic/Class posting only

STEM-B posting only (Bulletin Boards)
Central Hallway
Bulletin Board next to Basic & Transitional Studies (BE3122)

Info Central Posting Only

Bulletin Board across from BE3105A (copy center)

Post under the correct designated area
Central Elevators
Bathroom wall by water fountain
Left bulletin board next to elevators

Academic/Class posting only

Right bulletin board next to elevators

Info Central Posting Only
South End Hallway
Bulletin board by BE3187 (outreach and recruitment)
Bulletin Board next to BE3188B

Academic/Class posting only

Bulletin board across from south elevators

Post under the correct designated area
4th floors
North Elevator
Bulletin board to left side of elevators

Academic/Class posting only

Wall between elevators
Central Hallway
Bulletin Board next to BE4114

Info Central Posting Only

Bulletin Board across from BE4112

Bulletin Board next to BE4108

Post on the correct designated area

Bulletin Board next to Stairwell J (Near BE4180)
Central Elevator
Bulletin Board next to elevators

Info Central Posting Only
South End Hallway
Bulletin Board next to BE4152

Academic/Class posting only

Bulletin Board across from BE4153

Academic/Class posting only

Bulletin Board next to BE4155

Academic/Class posting only

Bulletin Board next to BE4172

Bulletin Board next to BE4173

Info Central only allowed to post (Information Only)
5th floor
Central Elevators
Brick wall across from workforce/next to restrooms

Post under the correct designated area
1st Floor
Bulletin Board across from SAM102

Academic/Class posting only

Bulletin Board right turn of the main entrance
2nd Floor
Bulletin Board across from SAM202
Bulletin Board next to SAM215
3rd Floor
Bulletin Board across from SAM302
Bulletin Board next from SAM303

Academic/Class posting only

Bulletin Board across from SAM319
Bulletin Board next from SAM319

Academic/Class posting only
4th Floor
Bulletin Board across from SAM403
Bulletin Board across from SAM417

Post under the correct designated area

Bulletin Board across from bathrooms

Post under the correct designated area
 Bulletin Board down the stairs (heading to the locker rooms)

 Posting for all college related posters
Open Posting boards are exclusively reserved for outside organizations/businesses and are the only authorized spots for such posters 

  Those posters do NOT need stamp authorization 

There are three Open Posting boards on campus 

North BE First Floor location (near Advising) 

South BE First Floor location (near BE 1110/International Programs) 

SAM Building 1st floor right of the entrance next to student leadership board 

 Open Postings are removed on the 15th and 30/31st of the month 
Two boards on BE 1st Floor south (across from BE 1110) for posting books 

Posting forms are available from Student Leadership and Info Central