Get Paid To Make A Difference, Many Job Positions Available!
If you have questions about currently available positions, please email dennis.denman@seattlecolleges.edu.
You will need a cover letter in order to apply. If you do not have a cover letter, use this Cover Letter Template. No Resume? No Problem - upload a blank document, if you do not have a resume available.

DIRECTIONS:
Select the blue hyperlinks below to access the job postings.
Review the job description and select the green "Apply for Job" button to begin your application.
When prompted, create a new Seattle Colleges Careers account by clicking "Register Now".
IMPORTANT: Do not sign in with your ctcLink username and password. The Careers account you will create will not be linked to your ctcLink/Canvas/email accounts.    
CURRENT JOB OPENING LINKS: 
(Coming Soon)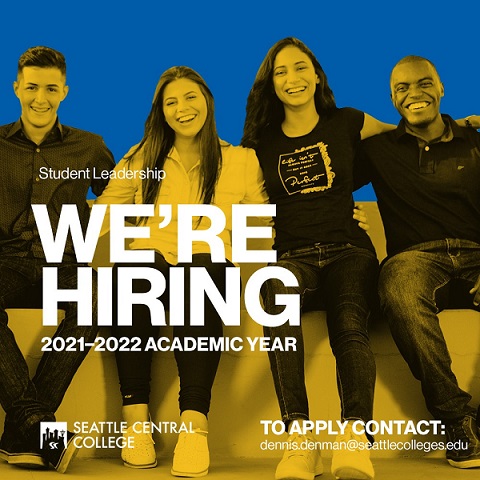 Every Spring Quarter, students are selected to take on leadership roles for the following year on our six Student Boards. If you are selected, you will be expected to attend the Student Leadership Orientation in September and serve Fall, Winter, and Spring Quarters. Most positions will begin September 1st, students will be working 10-12 hours per week with the Seattle minimum wage payrate of $16.69 per hour.
Board members receive a modest paycheck, intensive training opportunities, and significant experience that will complement their academic training as a springboard to career success and lifelong civic participation.
All positions are open to any student with 10 college-level credits and a GPA of 2.5 or higher.
Most board members are selected through an interview process (via Zoom) and an interview team of student leaders and their advisors. The Associated Student Council has a special student-driven process managed by the committee composed of students from across the campus in order to ensure representatives are chosen by the student body.
About The Student Leadership Boards
We provide accessible, knowledgeable student staff to answer questions, make referrals and direct inquiries to appropriate offices. For example, we can help:
Provide accurate, timely information and referrals to walk-in, phone, email and live-chat inquiries

Support campus communications and student enrollment by participating in one of the following teams:

 Phones, Voicemails, Live Chat Team: Answer phone calls and return voicemails and/or provide support to Live Chat Inquires

Enrollment Navigator Team: assist prospective/new students through the Enrollment process up through the first day of classes

Provide campus tours during New Student Orientations
The College Activities Board (CAB) is a team of students who develop and organize multicultural events and activities on campus that celebrate the diversity of our community, promote student involvement, and foster collaboration among student organizations. They seek to inspire students to build relationships across cultures, bringing about equity & social change. CAB members gain hands-on experience in all aspects of event planning, including booking, promoting and management.
Student Organizations Resource Council (SORC) supports club life at Seattle Central. We help clubs access information, resources, and trainings available and review club funding requests. SORC works with Club Commissions to promote collaboration among clubs with related interests and across fields. In short, "We love our clubs" means: service, support, encouragement, guidance and the offering of resources.
The Tournaments and Games Team (TAG Team) organizes and facilitates recreational activities that promote student involvement, fair play and physical activity. The team works in conjunction with the Mitchell Activities Center (MAC) to promote the many health and wellness resources available at the MAC to all Seattle Central students. TAG oversees all clubs in the Sports and Games Commission.
Here is their main page for more information: https://mac.seattlecentral.edu/tournaments-and-games
The Seattle Collegian is the independent student news publication of Seattle Central College. Founded in 2018, we follow a long tradition of student journalism on Capitol Hill, beginning with The City Collegian in 1966 and continuing with the Central Circuit from 2008 to 2016.
Our obligation is to the truth and to our readers — the students, staff, and faculty of Seattle Central as well as the citizens of Capitol Hill and the city of Seattle.
Here is their website for more info: https://seattlecollegian.com/